An update on the brownstone recut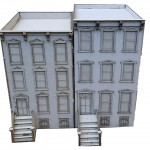 Here is a comparison shot of the existing brownstone (left) and the new one.
The footprint is identical but the floor height has been increased to allow the building to fit in between 28mm and 35mm games.
The stairs leading up to the front door have been made deeper to allow a model on a 30mm base to stand at the door

Here is a comparison shot of the two new art deco buildings against the brownstones.
The tall one on the left is Surrey Mansions… more on this tomorrow.
The middle one is Cheviot Court. The model shown was a paint test, not the final production model.
The final model is getting painted this week whilst the instructions are done. Despite the size, it was quite easy to build… the real challenge is painting it.