We are busy testing some old models with the new card thickness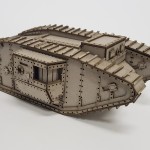 First up is the MK IV tank. This is a 1/48 scale model. We produce this as a "Grimdark" tank that has a turret that can take a battle cannon or a gattling cannon. The turret ring is compatible with the turret from GW tanks, so you can slot extra turrets into this tank.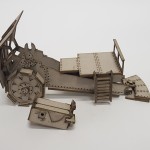 The other test we are doing is on "Big Bertha". This is a static wheeled artillery piece. More on these kits soon!