The cyborg range was what started LaserCutCard in the first place. Our first model (the barricade set) was produced in 2012.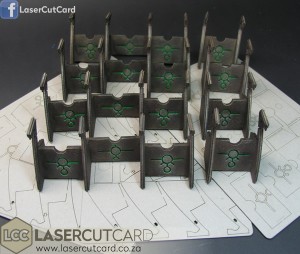 The very first model we ever produced was the cyborg barricade set and it is still one of our best sellers.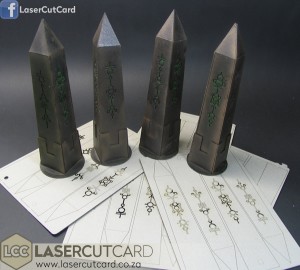 The next item we added to the range was the obelisk set. Currently these are sold in packs of four although we might change this to packs of two in the near future.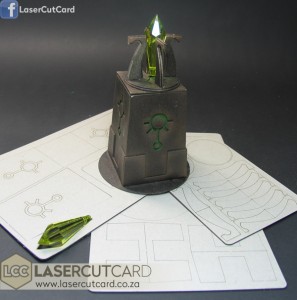 The cyborg sentinal was added to serve as either a generator or a gun platform and was the first model we did to incorporate plastic crystals. One of these models (which are sold as a pack of two) is included with the barricade set above to make a cyborg defense line.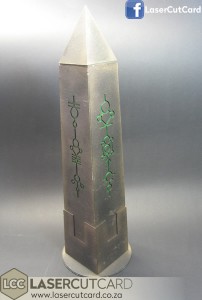 After this, we added an enormous Grand Obelisk – by far our tallest kit to date. This kit, more than twice the height of the regular obelisk, is bundled with four of the smaller ones to form a cyborg pylon set.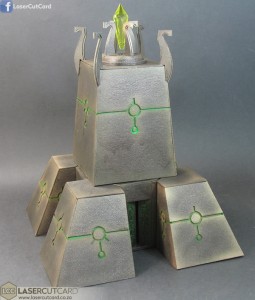 The next kit was the cyborg statis tomb – our first kit to make provisions for magnets. This was our first modular kit…the larger pieces are not glued together and so it can be used in a number of different ways.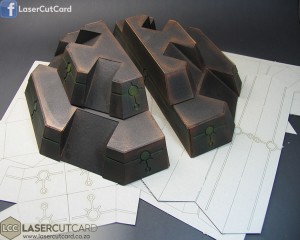 Our most recent addition to the range is the set of cyborg hills. These were added as the range required a set to block line of sight across the table. We also wanted to be able to offer something that could serve as a landing pad for cyborg craft
All these items can be purchased in the shop here: http://www.lasercutcard.co.za/shop/cyborg