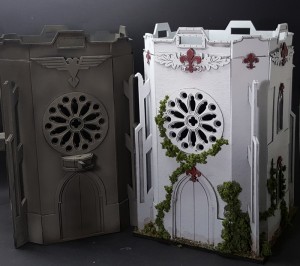 Today we release the Gothic Bastion Shrine – a great piece of terrain for your imperial homeworld.
Featuring rose windows, gothic arches and just a touch of firepower, this building projects just the right mix of salvation and purgatory.
The basic kit includes the 4 gun turrets shown in the image
Gothic Shrine Add-ons
The basic kit is upgradable to a "sisters" version by adding fleur-de-lis details. This upgrade set includes new door arches, new window frames and a replacement for the eagle.
Weapons Add-ons
You can add a quad cannon to the shrine to give you some support against flying and skimming units
This kit is made from 1mm heavy card and comes in a flat pack unpainted and unassembled.
Instructions are included in the kit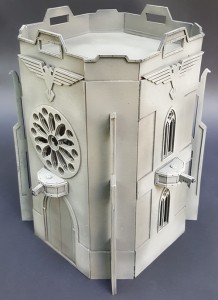 The basic design features rose windows and doors on two sides, and gothic arched windows on the other two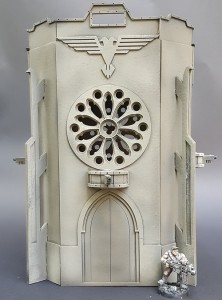 Each side is capped by the symbol of the eagle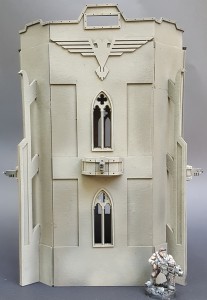 There are optional gun sponsons for each side too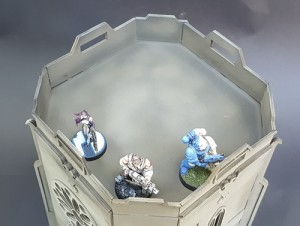 The roof is big enough to hold an entire squad with easy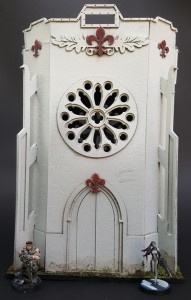 The fleur-de-lis version adds some softer details by replacing the harsh eagle with scrollwork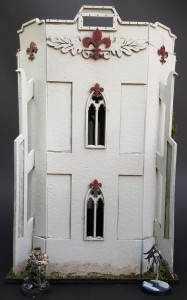 Each door and window is also topped with a small fleur-de-lis symbol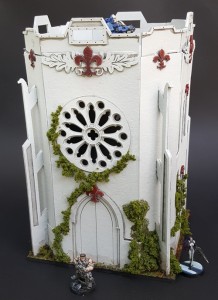 With a bit of extra detailing, the fleur-de-lis version would not be out of place in any time ranging from King Arthur to the far future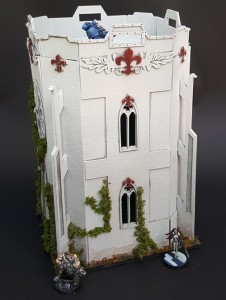 You can see this model in the store here: http://www.lasercutcard.co.za/shop/scenery/gothic/bastion_shrine