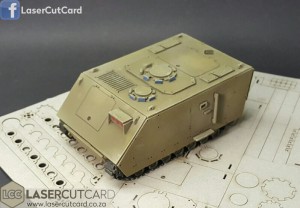 Today we release a new model: the M113 Redux tracked APC
This is a futuristic evolution of our generic APC based on the US M113.
It features a new suspension and wheel system and side doors that open forwards to protect troops when leaving / entering
It is made from layers of 1mm heavy card, laser cut.
The hatches and doors can be modelled open or shut .
It is compatible with our range of turrets
$12.95 for 1 model or buy a platoon of 3 for only $29.95
It is in the store here http://www.lasercutcard.co.za/shop/vehicles/m113_r_tracked_apc