Creating topiaries for scatter terrain is cheap and easy.
You will need
some wire or sticks for the stalks
some polystyrene balls for the shapes
some plastic end-caps for the planters (these are sold at hardware stores and are slotted into steel pipes or table legs)
some flock (bags of this are available anywhere model trains are sold)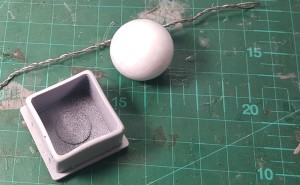 I used some thin galvanised baling wire I had lying around and so doubled it up to make it less flexible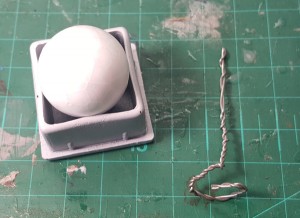 Twist the bottom of the wire into a circle with long-nosed pliers and get the stalk centred.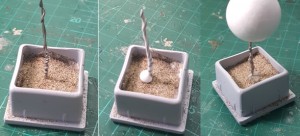 Attach the wire to the planter – I used a mixture of sand and glue but hot glue or epoxy putty or anything else is fine
Cover the stalk with white glue
Jam on the polystyrene ball and cover the stalk with sand too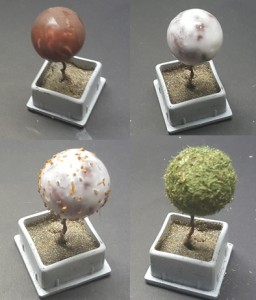 Paint the ball brown (I used straight Tamiya Acrylic Flat Brown)
Cover it with white glue
Lightly sprinkle tea leaves or leaf scatter (to represent older growth)
Cover it with fine green scatter
Pour some glue into the planter
Cover the bottom with more scatter and sprinkle in some of the leave scatter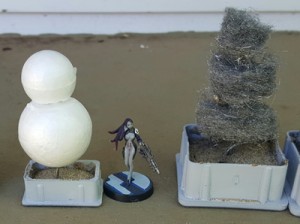 I tried a variety of materials for the shapes – polystyrene, steel wool and (for the triangular shape below) kitchen sponge carved with a knife.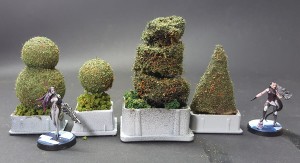 They all gave pleasing results and were easy to mass produce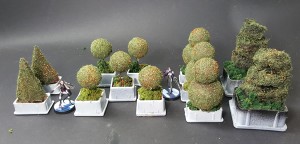 This represented about an hour of work (excluding the drying time)