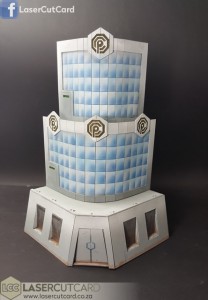 Commerce is the lifeblood of the city, no matter what the century or planet.
This is a three-level office block that would be at home anywhere from Neo Tokyo to Coruscant.
It is made from 1mm heavy card and comes supplied unassembled and unpainted in an A4 flat pack.
It features access points to all levels, including the roof.
The lowest level is exactly the same height as FutureHab #1, making those heroic leaps across the alley a little easier.
Multiple models can be pushed together to create one huge building.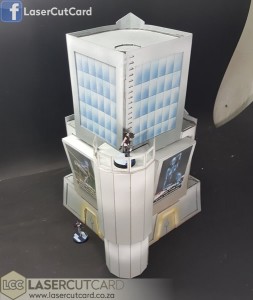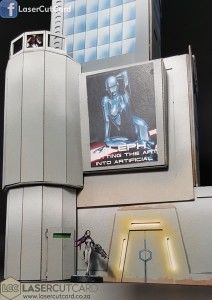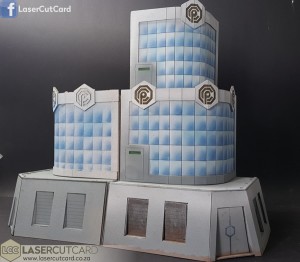 Other FutureHabs…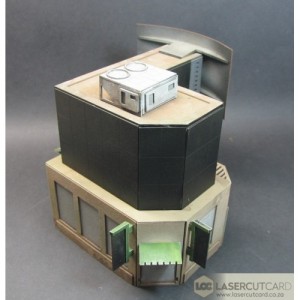 This is a two-level retail store made from 1mm heavy card and comes supplied unassembled and unpainted in an A4 flat pack.
Once constructed it can be stored by stacking the components inside one another to save space.
See Futurehab #1 here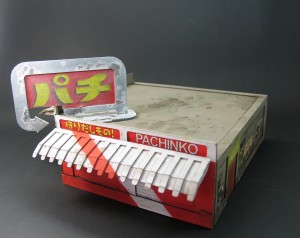 This is a single-level entertainment venue from the seedier side of Neo Tokyo (or below the cloud cover on Coruscant)
It is made from 1mm heavy card and comes supplied unassembled and unpainted in an A4 flat pack.
Once constructed it can be stored by stacking the components inside one another to save space.
The outer walls are removable to allow models to move inside.
See Futurehab #2 here