An entire table's worth of orc scenery!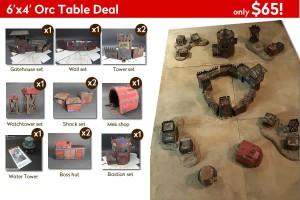 This incredible deal includes:
1 expanded orc fort
1 x gatehouse set
1 x wall sections set
2 x towers sets
1 orc bastion
1 x orc bastion set
1 expanded orc settlement
2 x orc scrap shack sets (6 shacks in total)
2 x orc boss huts
1 x mek hut
1 x water tower
1 x watchtower set (2 watchtowers)
All models are supplied unpainted and unassembled.
Models are made from 1mm heavy card in 2 layers (so final wall thickness is 2mm)
Scenic bases not included.
See this in the store here: http://www.lasercutcard.co.za/shop/orctable