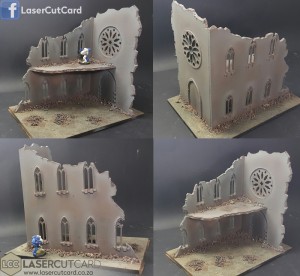 This is a look at using our DIY gothic window and door set to get some attractive scenery quickly and easily.
We built this generic ruined gothic church in about 2 hours (not counting drying time) using 1 set of the DIY Gothic Door + Window and half a set of the DIY Gothic Window Set.
The rest of the church is 5mm foamcore.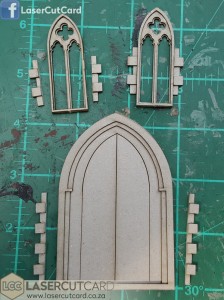 Step 1: We wanted to mount the windows inside the foamcore so we started by shaving off the decorative brickwork (but saved these for later)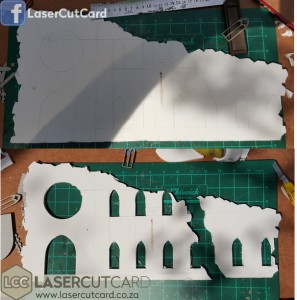 Step 2: We measured out the basic shape of the ruin on the foamcore and traced where the windows would be. We then used a hobby knife to cut out the shapes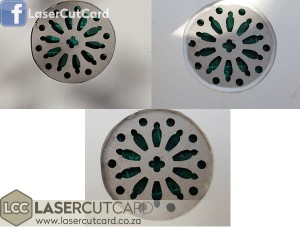 Step 3: The windows and doors were then slipped into the holes. We didn't stress to much about getting the holes super-neat. Rather, we jammed the windows in and then added a thick layer of normal white wood glue all around the edges to act as a filler.
When this dried, it covered up all the messy cuts.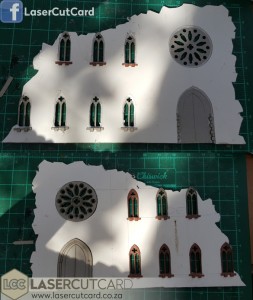 Step 4: Not wanting to waste anything, the decorative brickwork was glued on underneath the windows to act as a windowsill. The same was done for the door (on the inside)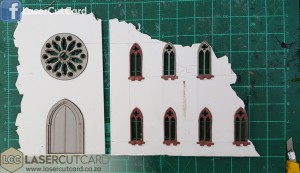 Step 5: The main piece was then cut into the two parts of the church (front and side)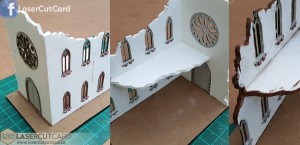 Step 6: This was mounted on a scrap piece of MDF we had lying around (but anything would do)
An important steo here is to paint all the edges of the foamcore with white glue and then sprinkle sand on it.
This protects the foam inside the foamcore from being eaten away by paint (and also makes it look more attractive)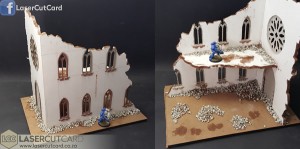 Step 7: We added a thick strip of white glue along all the edges and then sprinkled kitty litter on it. This then got a further coat of thinned wood glue. This helps anchor the building even more (and the kitty litter is cheap and excellent rubble).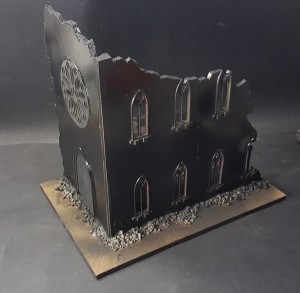 Step 8: Finally, the whole thing got a spray with cheap matt black spraypaint. This is enamel based and will eat the foam, hence the importance of sealing it.
Painting
To represent a building made of concrete, it was sprayed with these colours:
– Tamiya Flat Earth
– Tamiya Light Grey
– Tamiya Deck Tan
A thin wash of Tamiya Flat Brown was applied near the bottom to represent dust.