The good news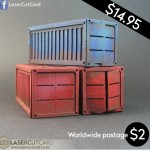 Our basic set of shipping containers has been reduced in price from $18.50 to $14.95 for three. On top of this, our shipping rates have come down!
The container range v2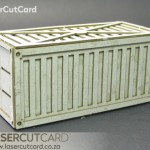 This is our basic shipping container – it is one of our best selling products on account of being versatile, strong, easy to build and cheap (now under $5 each!).
The entire range of modified shipping containers has been reworked – all modified containers are now constructed in exactly the same way, making them far easier to build… once you have built one, you won't need to look at the instructions again for any of the others.
All the modified containers come with removable roofs.
We have also expanded the range to now include containers modified for use as
– shops (2 versions)
– houses (2 versions – brand new)
– an office / site office (new design)
Along with this we have created two basic accessory packs that are included in the various sets:
– ladders and ledges
– steps and tables
The site office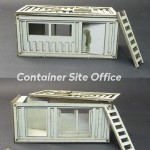 The site office: this has been redesigned to have large windows and a sliding door, all the better to see you with. Roof access is via a ladder and a trap door in the ceiling.
The container shops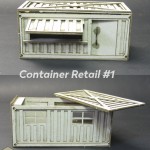 In South Africa, these are called "spaza shops" and are a common feature in urban and rural landscapes. This one has a short counter and a door – a typical configuration for a "corner cafe" version that would sell basic consumables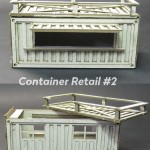 The other spaza shop is in the "shisa nyama" configuration – a tavern that sells meat to be cooked on site. It has a long counter for drinks plus a roof platform for patrons to enjoy themselves.
The container houses
These are new additions to the range – containers that have been modified to live in.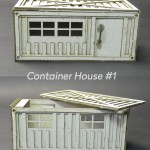 The first house has windows in a more traditional cottage configuration.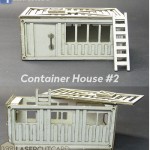 The second house has elongated windows and roof access via a ladder and roof trapdoor.
The container accessories
These sets are included with the containers but we might make them available separately.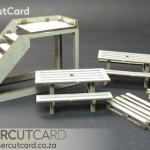 The steps and picnic tables also includes two palletes.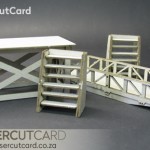 The ladders and landings also includes a walkway.
The container sets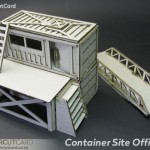 The site office set will include
1 x site office
1 x standard container
1 x ladders and landings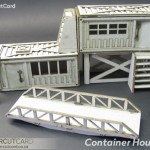 The housing set will include
1 x house 1
1 x house 2
1 x ladders and landings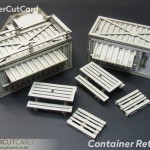 The retail set will include
1 x shop 1
1 x shop 2
1 x steps and tables
The standard shipping containers are already in the store here: http://www.lasercutcard.co.za/shop/scenery/shipping_containers
We will be adding the modified shipping containers shortly