Strange symmetrical mesas rise from the cyborg landscape. Are they data centres? Landing pads? Capacitors? No-one knows except the cyborgs, and they only speak binary.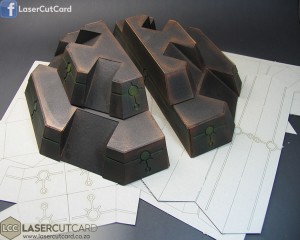 This week we expand our Cyborg range with a new set of cyborg-themed hills.
You can see the entire cyborg range in the store here: http://www.lasercutcard.co.za/shop/cyborg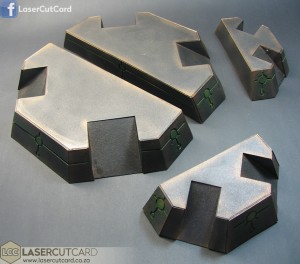 The set comprises two large half-hills and two small half-hills that can be stacked or arranged as desired.
The large hills are about 250cm wide and 125cm deep on the top (but will be 250cm square if joined together. The bottom slopes out a little giving a footprint of almost 300cm square (~12″ square)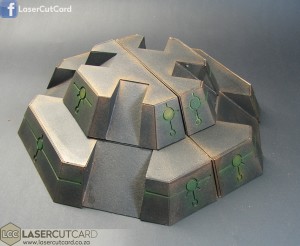 The set can be combined to create a two-level hill but alternatively you can use them as two separate hills. Both levels are just over 40mm high and so will block Line Of Site to all normal infantry models.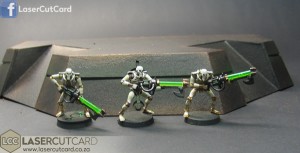 The large will easily hold around 30 models on a standard 25mm base, and the two level hill will hold around 28 models easily.